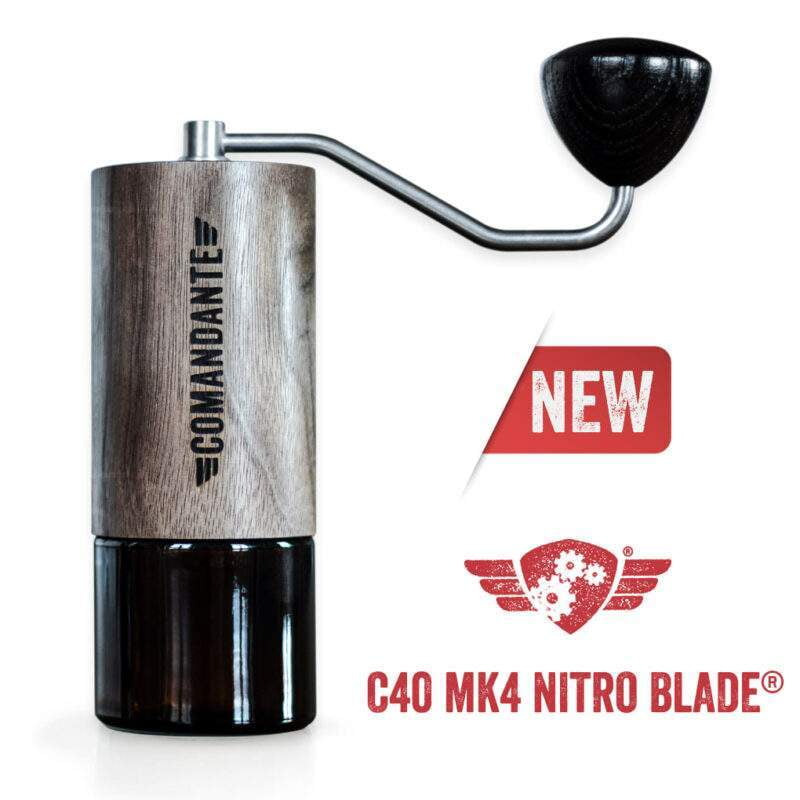 Comandante C40 NITRO Virgina Walnut
Non-returnable
The Comandante C40 MK4 Nitro Blade is an amazing, precision grinding instrument. It has an advanced burr design giving it a serious level of consistency.
The MK4 version has several updates: A new engine frame shape, more robust material with higher capacity, and no trapped coffee beans!
The Nitro Blade® has a unique design; it uses a high-alloy, nitrogen-rich stainless steel with a matrix of fine martensitic microcrystals.
Grind Adjustment

The Comandante click system gives you complete control of each brewing method and locks in your preferred grind adjustment, so you can get the most out of your roasted coffee and repeat the results over and over again.
Nitro Blade the weapon of choice for true coffee enthusiasts worldwide, from home baristas to World Cup Brewers Champions.
Comandante uses high-performance, BPA-free polymers that meet the most stringent food safety standards.
C40 MK4 comes with one glass bean jar
can contain approx—40 g of roasted coffee beans.
Weighing just over 600g, the C40's compact size and rugged nature, the world's best hand sander.
Specifications:
· State of the art stainless steel burrs - high precision
· Patented burr material
· Center axle fixed and supported by two micro ball bearings - better force distribution and grind action
· Plastic BPA free
· 35 grind settings
· Comes in two jars - one dark coloured and one clear poly jar
· Choice of four styles
· 40g capacity
Handcrafted in Germany